Prof. Nikki Taylor To Speak Twice This Week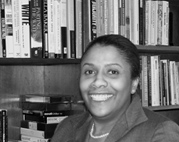 Prof. Nikki Taylor
Professor
Nikki Taylor of the History Department of the University of Cincinnati will be giving two talks this week.
Prof. Taylor will give College Hill's inaugural Ambassador Jesse Dwight Locker Lecture on
Friday, July 26th at 7:30, in the auditorium of the College Hill Fundamental Academy at 1625 Cedar Avenue. For more information, please see the attached press release. Dr. Taylor will construct a picture of the early Black community in Cincinnati which developed from vulnerability in the 1820's to political self-respect and self-determination.
Dr. Taylor will also be speaking at the Sunday morning service at First Unitarian Church (corner of Linton St. and Reading Rd) in Avondale at 10 am.
She will talk about her new book: "America's First Black Socialist: The Radical Life of Peter H. Clark." Clark was an abolitionist, political activist, writer, publisher, and founder and principal of the first Cincinnati public school for African Americans. He was also the first African American member of First Unitarian Church (1868) and research on Clark done by a long-time member contributed to Dr. Taylor's work.